MacroDroid Pro v5.9.4 is a powerful task automation software for making your digital tasks easier. Just configure your tasks schedule or preset tasks and convert your device into an automated device. From here download the latest complete unlocked apk file for free.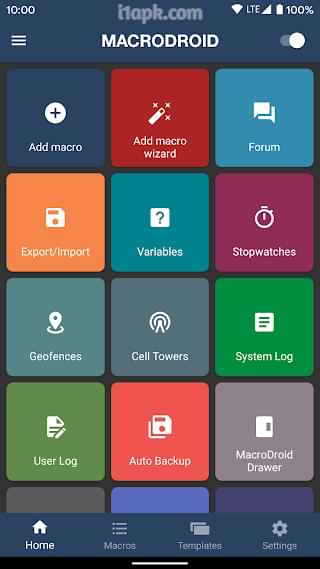 Description:
MacroDroid PRO is a powerful automation application and task configuration application that focuses heavily on usability with an attractive as well as simple UI and a logical step-by-step process. With this app, you can do more than 120 different types of work automatically on your device.
Suggested App for You: AccuBattery Pro apk – Android Battery Optimizer
More than 45 types of launches including:
Airplane Mode Enabled / Disabled, App Installed / Removed, App Opened / Closed, Battery Level, Bluetooth Event, Day / Time, Device Boot, Device Docked / Undocked, Dial Phone Number, Headphones Inserted / Removed, Location Trigger, Media Button Press, Mobile Service Status, NFC Tag, Power Button Toggle, Power Connected / Removed, Regular Interval, Screen On / Off, Shake Device, SMS Received, SMS Sent, Widget Button Press, Wifi State Change.
More than 70 actions including:
Auto Answer Call, Control Media, Display Notification, Delete SMS, Enable / Disable Bluetooth & Connect to Audio Device, Enable / Disable Auto Rotate, Enable / Disable Auto Sync, Enable / Disable Data, Enabled / Disable GPS (*), Enable / Disable Wifi, Enable / Disable Wifi Hotspot, Forward SMS, Kill Application, Launch Application, Make Call, Open Website, Play Sound, Popup Message, Reboot / Power Off, Record Microphone, Say Current Time, Send SMS Set Brightness, Set Airplane Mode, Set Keyguard, Set MacroDroid Mode, Set Ringtone, Set Screen Timeout, Set Volume, Set Wallpaper, Share Location, Sleep Before Next Action, Speak Text, Take Picture, Upload Last Photo, Vibrate.
More than 25 different restrictions including:
Battery Level, Bluetooth State, Call State, Day of the Week, External Power, Headphone Connection, MacroDroid Mode, Phone Ringing, Ringer Volume, Running Application, Screen On / Off, Time of Day, Wifi State.
Key Features of MacroDroid Pro 5.9.4 APK:
Shake the device to post the latest photo to Facebook
Turn on the WiFi or Data connection when launching a specific application (and turn it off again when closed).
Reply to incoming SMS by sending your current location
Change the Power key (for example when you put it in your pocket)
Use NFC tags to configure the device (turn on Bluetooth, adjust volume, and…)
And More…
Download Link: MacroDroid PRO – Device Automation APK
File Size: 27.8 and 4 MB
Installation Requirements: Android Jelly Bean, v4.4 – 4.4.4 (KitKat), 5.0 – 5.1.1 (Lollipop), Marshmallow (v6.0 – 6.0.1), v7.0 – 7.1 (Nougat), 8.0 – 8.1 (Oreo), v9 Pie, Android 10 or latest version.
Latest Version Changelogs:
Added cloud backup feature in auto-backup screen (Pro users only).
Several minor bug fixes.
Screenshots of Macrodroid Pro App