Download Beggar Life v6.2.5 Mod Android Game – Live like a beggar
Experience the life of a beggar by playing this cool game on your smartphone. Your task in this game is to become a businessman from a regular beggar. Establish big companies and do business with world-class brands and peoples. Change the spare by playing the role of CEO from a beggar life.
Beggar Life Mod, the game is fully based on the theme of a realistic beggar life with some challenging twists. The first-ever game with a unique category and a Click / Tap game like this beggar before! Increase the level of the beggar CEO! Boosting the level of CEO beggars increases gold per click (press)!
Tasks To Perform:
Hire a part-time beggar: Hire help to earn more money. You can increase the capacity of the money you earn with the help of fashionista, rocker, artist, pianist, football player, scientist, doctor, judge, king, stranger
Buy properties: You can make more money by buying and selling properties
Purchase illustrations: You can earn more money by buying and selling works of art
Acquire companies and cities: Show the world you're awesome by acquiring large companies as well as cities
Collect beggar cards: All beggars have their unique stories. Twice as moving when you know the story!
This amazing game developed by manababa for Android 4.1 or up. More than 5,000,000+ installation from play store with 4.5/5 average users rating. Everyone on the track of challenging to you so let's come and join.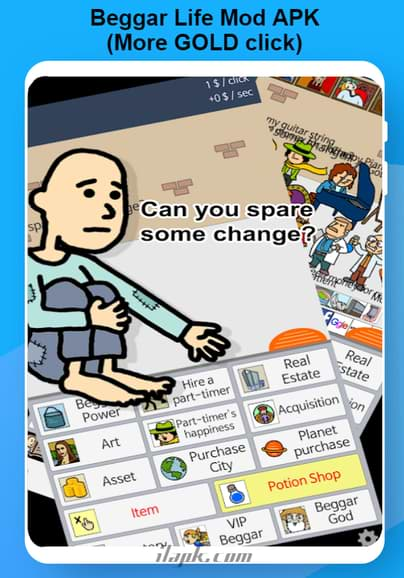 Minimum System Requirements: Android 4.1 (Jelly Bean), 4.4 (Kitkat), Android 5 (Lollipop), Marshmallow (6), Nougat (7), Oreo (8), Pie (9.0) or the latest version.
Beggar Life Mod APK 6.2.5 Download Links [Infinite Gold Click]
What's new inside v6.2.5
< 6.1.5 ~ 6.1.9 Update! >
– Add Revival
– Improve UI
– Turkish, Vietnamese, Russian, português, Deutsch, ไทย Improve